ABOUT THE ARTIST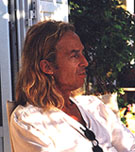 Born in London, England on December 19th, 1948, Richard's earliest attempts at artistry he remembers from when he was only five years old. Reprimanded for decorating his father's study in cowboy and Indian mortifies while using colored crayons, the young artist continued his exuberance toward drawing throughout his school years no matter what the academic lesson. Although accepted for post graduate training at art college in England the traditional approach in teaching at the time seemed limited for North's rapidly developing style. At 18 he decided to travel to Europe where he first emerged himself in the art scene of Paris before eventually moving down to Spain. Eager to explore arts changing directions of the late sixties, he began to produce commissioned works, which included painting images on musical instruments, automobiles, nightclub walls and a castle reception hall and bedrooms.
Body painting, an experimental art form of the time, suited the artist well as he continued to explore the use of non-traditional "canvas". One of the most interesting times the artist recalls was staging light-show effects for musicians enhancing his artistic renderings on musical instruments and backdrops forming a colorful sort of moving picture show.
On his return to England in the early 70's Richard launched himself into a number of art projects, which eventually developed, into his first exhibition with the Hampstead Art Society. Of these projects one of which involved the interior and exterior hand-painted decoration of an entire Volkswagen.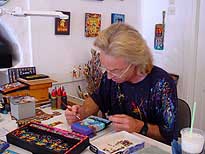 Believing America to be a better environment for new ideas in the arts, in '74 North set off for the States. Along with his artwork Richard always had a parallel passion for music and by now understood that wherever music's rapidly changing trends were being promoted so must it be for art. At the time, Chicago was well known for its incredible innovative music scene, a perfect location to set up his new studio base. In the years that followed experimental projects began to develop involving both landscape and figurative content. Exhibited first at the Yolanda Galleries in Chicago, an installation designed to radiate from one of the gallery's corners involved a 32-piece collection of large interlocking coloured drawings.
Through this time North's high contrast cartoon approach to painting began to emerge. This vivid style was soon noticed by the cartoon and comic book industry where for a short period of time he accepted to contribute some of his design efforts. Realizing the narrative story-telling possibilities of moving from frame to frame another installation was mounted for the Yolanda Galleries, this time telling a full story by incorporating the comic book frame effect into a long linear display.
Richard James North's success as an up and coming artist began to build not only through exhibitions but also in private and corporate sales. Purchases by the vice-president of Playboy for the Towers headquarters office and another by the Chicago Stock Exchange for their main entrance hall were among the first. The Circle Galleries Group also took an interest in North where he involved himself up until the end of his stay in Chicago.
Although most of his 9 years spent in the United States had taken place in the windy city, Richard also worked for a short time in New York, painting and giving private exhibitions. He then moved and spent 2 years traveling and working the Pacific West Coast. In 1983 an unfortunate turn of events back in England brought an end to the artist's momentum. A serious stroke suffered by his father caused Richard to make a speedy return to London. The experience of witnessing his father slowly passes away was devastating.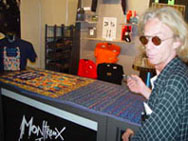 With a need to clear his head from the experience, in '84 North decided once again that a move to some place fresh was called for. On the advice of a musician friend he headed for Greece, but more specifically it's islands. On his arrival he started off by island hopping to find a location for a new studio. When seeing Mykonos for the first time he realized to move there would be like living in a real-life painting. That same year he met up and partnered with mosaic artist Monika Derpapas, establishing "THE STUDIO", a gallery and working facility in the main village of the island. In the years that followed, North's prolific output was directed toward applying his unique painted images onto a wide range of non-canvas working surfaces.
Exhibition installations included everything from painted kayaks to coat-hangers but the bulk of his designs were concentrated toward wearable art. In a period of less than 10 years his painted articles of clothing numbered over 6,000. In the more recent years North's concentration has shifted from fabric to the painting of hand designed wood cutouts. Of this collection numbering in the hundreds, notable are 10 life-size painted cutouts of rock celebrities, commissioned by the Hard Rock Cafe. In '96 the BMG record company commissioned North to do an album cover which they turned into a series that first went gold and then platinum.